It Takes A Village
Our outdoor classroom continues to evolve and adapt to meet the needs of each year's class. This year, in response to the children's excitement over our discussions of butterflies and chrysalis', we have created a registered and certified Monarch Waystation. To hold that title, the children planted and cared for milkweed, nectar plants, and shelter for monarchs through their annual cycle. Our outdoor classroom has given us an opportunity to encourage their interest in butterflies and to apply it to the real world. They are now able to observe the cycle of the butterfly in a garden they built, instead of from a book.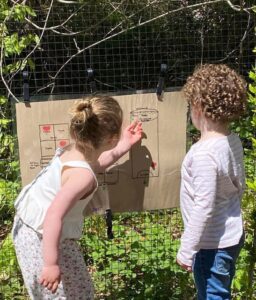 In addition to bringing their indoor interests outdoors, we continue to explore and experience each season in our outdoor classroom. Each season seems to bring almost an entirely different environment for them to explore and learn. We love the temperature and feel of fall. One of their favorite activities is making windsocks and feeling the wind rush through the vane as they run. The winter brings the opportunity to explore and play with ice and snow. We host one our favorite events for the community during the winter. The children spend time decorating the outdoor classroom with art, and lights and on Winter Solstice, we invite the community in to experience our classroom and celebrate the new season. Early spring is an important time for learning and growing. During this time the children tend the garden and plant seeds in hopes for a fruitful summer harvest.
This will be our 7th year recertifying our outdoor classroom and each year has been different. We have used our space for so many different community and learning experiences. Our outdoor classroom has truly become a third teacher for our children, evolving to meet their needs.