James & Anne Robinson Nature Center
Clean-up and Maintenance effort: In 2022, we came together as a team to give a nod to the past accomplishments of Nature Place, and excitedly look towards its future. After seven years of daily play and outdoor learning, our beloved space has started to show signs of needing updates beyond routine maintenance.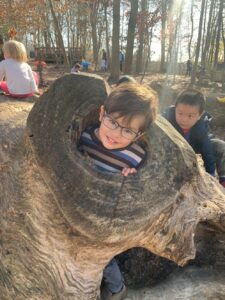 Still dealing with the challenges of staff shortages, we focused our efforts on removing the pieces that could pose a hazard, and left the site with only the key elements in place- such as our slide, mud kitchen, block building, musical instruments, and log crawls. We are looking forward to early 2023 to install completely new pieces, and for the restoration of some of the hand-crafted items.
Success Story: The growth of our Nature Preschool Program has resulted in almost daily use by the various classes of Nature Place. While turning logs into pirate ships or pretending to be a family of animals that "nest" or "burrow" in and amongst the swings and slide, these little learners gain problem solving and social skills. With an outdoor classroom, they're able to monitor changes and patterns of weather and the seasons, and have shown us that they are very astute observers. Teachers, families, and children know that in Nature Place, the focus is more on what they "can" do, instead of what they "can't."