JCC Early Learning Center
at Congregation Sha'aray Shalom
The Nature Explore Outdoor classroom at the JCC ELC in Hingham is a good example of how to create a space with and for children- all you need is a vision!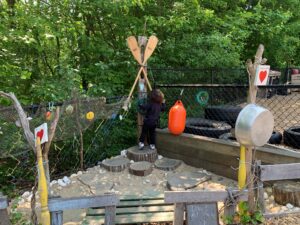 We began our beautiful outdoor space with the vision of one Pre-K teacher. She envisioned a magical space made for and by children to play and explore nature! What began as one lovely stick tower, turned into a complete outdoor classroom during COVID. Through teamwork, community support, and gumption we have created a beautiful outdoor classroom with something for everyone!
The wooded area called , "Explore," provides a place for children to pretend, roam, explore, and create all in the beauty of nature. All of the features in this area of the classroom are made of natural materials such as sticks, twine, tree stumps, and plants. Children love to run freely through this area playing hide and seek, or some other imaginative game created by them. The open-endedness of this area allows for much child-led play and creativity.
In the area called, "Imagination Garden," children enjoy building with large wooden blocks, snacking and listening to a book read aloud on the stage or in the rowboat, and pretending in whatever way they choose! They also love to see all of the different garden beds in bloom with different items throught the seasons.
Lastly, children can enjoy some gross motor fun on our climbing structure, "over and under." They love to slide, jump, climb, and swing on this traditional playground structure. Standing close by to "Over and Under" is "Dump and Fill," our mud kitchen area. Many a sand cupcake or nature stew is whipped up in this area! Our outdoor classroom is an every-evolving effort by both children and teachers. Plans are made, discussed, improved upon and then implemented in our wonderful outdoor classroom!