JCC Early Learning Center
at Congregation Sha'aray Shalom
As the children grow and change throughout the year, so too does our outdoor classroom at the JCC Early Learning Center! As a team of teachers, we are constantly considering what to do next so that the outdoor classroom can continue to grow and thrive for years to come. For example, wanting to capitalize on our children's growing imagination and creativity, we recently added a small wooden rowboat to our garden area. The children love to pretend to fish, pull up the anchor and set sail, or even sit and read, draw, or have a snack with a friend.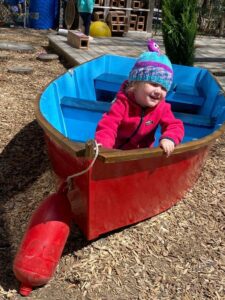 Our outdoor classroom is much loved and a much used space at our school. It provides an extension to the indoor learning environment that both children and teachers enjoy visiting each day. As a team of teachers we firmly believe that the anything that can be taught indoors, can also be taught outdoors. And although the quality of teaching that we provide to children is the same in all settings, the sensory experiences that our outdoor classroom provides just cannot be duplicated anywhere else. The smell of the flowers, the feel of the puddles, the look of new growth all around, the sounds of the birds, and the taste of all the good things to come are all experiences that our outdoor classroom provides to our children each and every day.