The Nature Explore Classroom at
Jefferson Memorial Forest
Autumn bent grass, river oats and native grasses fill in and divide the spaces at the Jefferson Memorial Forest Nature Explore Classroom, the first certified Nature Explore Classroom in Kentucky.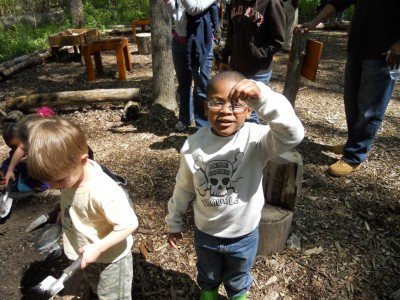 The Location for the new outdoor classroom was chosen based on the beauty of existing trees, proximity to the nature center and shelter. Willow branches have been planted that will root and create a living border surrounding the area. Cedar logs define the outer perimeter and border of the native shade garden which was created and planted by the freshman class of Mercy Academy High School.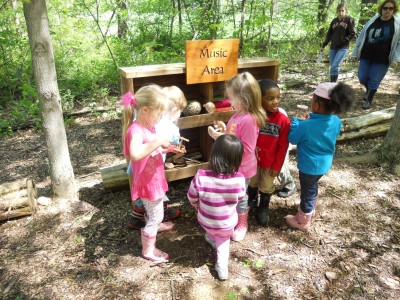 Abundant, local cedar was used throughout the classroom for signposts and borders. Storage units were crafted using reclaimed redwood from an old dock that was removed from a nearby lake. Benches and chairs were artfully crafted using walnut logs left over from a tree that fell during an ice storm.
The Entry feature is designed to resemble a vine crawling on cedar posts. Copper wire and wooden leaves wind skyward and draw your eyes toward the canopy of mature trees. Each leaf reveals an inspiring word such as explore, dream, believe, earth, water and air. Tree cookies and giant mushrooms carved out of stumps, are adorned with quotes and designs. Staff, volunteers and young students helped in the creation of each area.
Christa Weidner, Naturalist at Jefferson Memorial Forest commented, "We have had wonderful responses from teachers, parents and kids. The teachers are excited to have this new addition, the parents want to build these at home and the kids do not want to leave. I am very grateful to have discovered Nature Explore."

Address
11311 Mitchell Hill Rd
Fairdale, KY 40118
Classroom website