Jump Smart Early Learning Academy
When I think of peace, I envision our Fairy Garden that provides an escape from the complicated world we live in. Our fairy garden was designed to provide a safe space where both children and adults can visit and imagine a world that is free of violence, pain, and suffering.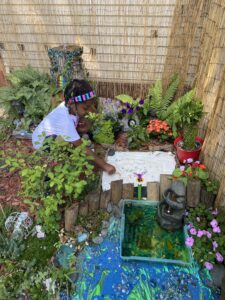 When visiting the garden, the smell of fragrant flowers, vivid in color, captivates your sense of smell. The aesthetics and beauty welcome anyone that visits to stay a while and enjoy quiet and tranquility.
The new miniature fountain provides the sound of bubbling water cascading down the fountain which is soothing to the spirit. Together the teachers and children create short stories using the miniature fairies found in the garden. The fairy characters suddenly come to life as the stories shared promote language and taps into their imagination. Our new fairy garden is not only relaxing but offers a brief feeling for inner peace.