Jump Smart Early Learning Academy
We have continued to maintain Nature Explore Classroom to engage our children, parents and teachers and enhance our spaces by adding new features each year.  This year we improved our reading area and added cushion low seating for children. The seats are washable and comfortable.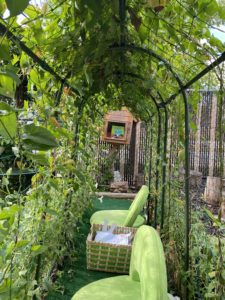 Also, we included a writing basket with a variety of writing and drawing tools to spark spontaneous creativity. The children now have a choice to write, read or use their technology as they relax in the reading tunnel, which is designed for quiet play.
We have added a fragrant garden and filled it with lavender, honey suckle and lialic plants. The mints, green beans and other plants continue to provide opportunities for children to taste plants and also have a sensory experience. We have noticed that the children enjoy the different scents and it inspires emotions of happiness and well being.
We implemented a new music area surrounded by a bamboo wall and a mirror, which the children simply love. A stage for creative play, ribbons for dancing, containers for instruments, drums and bells all contribute to this well designed space for the children to explore. This area is one of their favorites and will be reconstructed next year as a permanent feature of our outdoor classroom.
Our fairy garden was created to bring whimsy and magic to our space. The children are captivated as they visit the garden playing with the miniature fairies and inventing their own stories. The language is rich and their imagination is unstoppable. This is a fun and popular area.