Kendal Early Learning Center
Welcome to Kendal Early Learning Center, a Step Up To Quality Five Star rated program, located inside Kendal at Oberlin, in Oberlin, Ohio. Our unique Intergenerational Program combined with the Creative Curriculum provides a balanced approach for young children to learn and grow.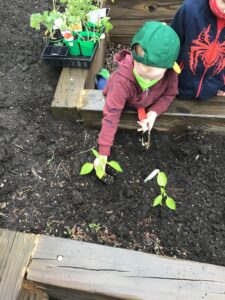 Nestled on over 107 acres of natural woods and wetlands, Kendal provides an educational preschool program to families of on-site employees in Oberlin, OH and families from the surrounding community. Children are taken outside to explore nature and learn daily. We have several gardens we can utilize as well as covered walk ways, paved/unpaved paths, and multiple ponds.
Our Kendal Early Learning Center (KELC) will be a leader in person-centered intergenerational programming in Ohio for the children of Kendal Northern Ohio staff members and families from the surrounding community.
KELC will unite generations with relationships having lasting positive effects on the lives of their children and residents. This will be accomplished using an educational curriculum focusing on the needs and interests of each child and on the interests and talents of each resident according to Kendal's person-centered philosophy. KELC will maintain an environment that is aligned to NAEYC's quality benchmarks and adheres to our mission to develop fiscal viability through community and philanthropic resources.