The Nature Explore Classroom at
Kids Country Green
The Outdoor Classroom at Kids Country Green in Uniontown, OH has a unique name: M.U.D. P.I.E.S.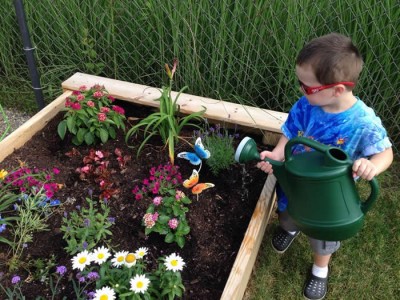 This is an acronym for Motivating, Uniting, Developing-Physically, Intellectually, Emotionally, Socially. Involving families in the planning of the space helped the center to realize the importance of creating an environment that allows for quality educational and social experiences through outdoor lesson plans. The space is set up for children to have guided experiences in designated areas but allows for freedom of choice.
The outdoor classroom is a combination of warm and inviting natural wood features paired with splashes of color throughout. Trees were chosen that would eventually grow to create wonderful shade, while other plants were incorporated for beauty, function or as borders, giving visual direction. Willow trees were planted along the sidewalk to create a natural tunnel to ride bikes. Three raised gardens were built by the children and families. A butterfly garden was created with plants that attract all species of butterflies, a flower garden and a vegetable garden. The children cultivate and sell their items at the end of the day at the Kids Country Farmers Market.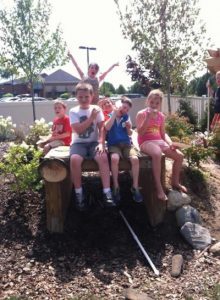 A wooden tunnel was built that leads into the Messy Materials Area which features natural tree branches, sticks, wooden blocks, tree cookies for stacking and building and a Fire Pit to have an opportunity for imaginary play. Floral hanging baskets border a beautiful wooden pergola, providing shade for the sandbox. Various sizes of rocks are included in the Rock Box. Dump trucks, digger trucks, shovels and realistic people allow for amazing pretend play. Large dirt and digging areas give the children the opportunity to dig with shovels, hoes and rakes to their heart's content. The Art Area has a wonderful mixture of art supplies and potted plants. Art created by the children may also be displayed here.
Kids Country Green allows children to explore the wonders of the natural world and to learn to appreciate and care for natural resources. The Ohio Children's Outdoor Bill of Rights is a guide to enable children and adults of Ohio to develop healthy, active lifestyles by spending more time outdoors. At Kids Country, these rights are exercised each day!

Address
1801 Town Park Blvd
Uniontown, OH 44685
Classroom website
Facebook