Kids Country Green
Our classroom is an area in which the children yearn to explore the outdoors. It is a space where rocks are flipped over for worms to be found, where mudpies and leaf soups are made in the mud kitchen, where jumping, leaping and running occurs, where laughter and joy fill the air and questions are asked and learning is provoked!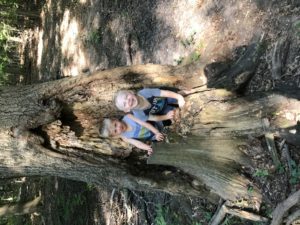 At Kids Country, we get MESSY! Rain or shine, snow or just cold, our children are becoming one with nature and their senses are sparked in every direction. Each year we follow the lead of our children and ensure we meet their needs by adding materials that represent what they want to learn.
Every student goes outside twice a day to our outdoor classroom and even goes on adventures in our woods! However, the learning doesn't stop there! More often than not, the learning from outside becomes a part of the indoor classrooms and the learning continues like a revolving door! At Kids Country, we are huge advocates for nature and allowing the children to learn it HANDS ON!