Kids Country Hartville
We have worked very hard this year to make sure that our outdoor environment was being utilized more than ever!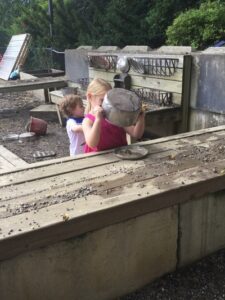 We have focused on maintaining our garden and creating a place where the children can plant, water, and harvest when needed. We have loved having our Outdoor Educator, Terry visit our center every Wednesday! She has shown the children bird wings, hides, and helped them with their garden.
This summer, the summer camp students hatched butterflies and met with a butterfly expert about how to keep them safe and create an environment that will support their development and welcome more species of butterflies.
We extended our toddler playgrounds to include mulched climbing equipment and a rock wall for the children to really work on cause and effect and problem solving in such a fun way. This summer we studied environmental stewardship and learned about healthy habits and recycling and minimizing our waste.
We also maintained and updated our birdhouses this year to welcome more families into our environment. The school agers were able to identify cardinals, blue jays and chickadees! We have had so much help from staff, families and the community. We just want to say thank you for continually supporting us and the importance of our outdoor space!