The Nature Explore Classroom at
Kids Country Hartville
The outdoor classroom is a combination of warm and inviting natural wood features paired with splashes of color throughout.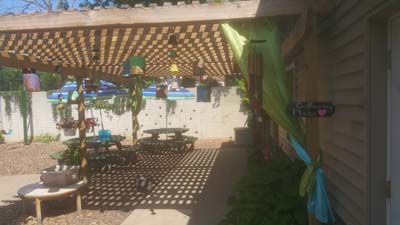 Trees were chosen that would eventually grow to create wonderful shade, while other plants were incorporated for beauty, function or as borders, giving visual direction. The raised garden was built by the children and families. The classrooms investigated composting and use the composting bin to provide extra nutrients for the vegetable garden they planted. A butterfly garden was created with plants that attract all species of butterflies.
Involving families in the planning of the space helped the center to realize the importance of creating an environment that allows for quality educational and social experiences through outdoor lesson plans. The space is set up for children to have guided experiences in designated areas but allows for freedom of choice.
Kids Country Hartville allows children to explore the wonders of the natural world and to learn to appreciate and care for natural resources. The Ohio Children's Outdoor Bill of Rights is a guide to enable children and adults of Ohio to develop healthy, active lifestyles by spending more time outdoors. At Kids Country, these rights are exercised each day!
Keleigh Veraldo-Zucchero, Center Director

Address
1126 Washington Street
Hartville, OH 44632
Classroom website
Facebook