Kids Country Medina
At Kids Country Medina we understand the importance of children playing outside in nature. We play in the mud, rain, sun and snow.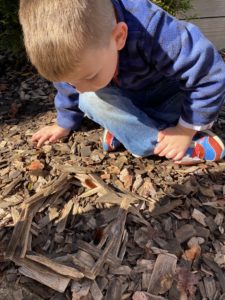 Our school agers even learn how to climb trees safely. From toddlers up through school age our children learn how to plant gardens and take care of them. We also have chickens now, which the children hatched from eggs and learned all about them. The chickens live in a coop outdoors on the playground and the children even help take care of them.
Our children also learn about bugs, plants and insects we find on the playground. We recently found some wooly bears which the children decided to make a home for so they would be safe on the playground. We are working on a 3 year plan to improve our outdoor spaces even more.