Kids International
Kids International boasts an acre and a half of outdoor space behind our building. Our large field was converted to an outdoor classroom after research and planning and became the host for community outdoor classroom workshops.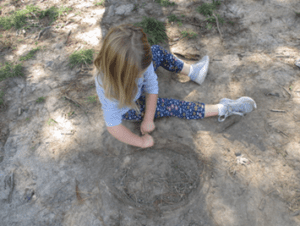 We added areas one at a time around the perimeter of the field. There are trees of many varieties all around the edges of the outdoor classroom on three sides. The center is a large grassy area used as gross motor space and for some special activities. The children call it the far field. The near field is our garden and a shaded area with pine trees and a second building area.
Our outdoor classroom was first certified in 2013. Many natural plants were planted throughout including zebra grass and perennial plants and flowers. The children have access to tree cookies, pea gravel, sand, large rocks and stones, mulch, sticks and tree limbs, logs, stumps, pinecones and an ever-changing variety of seed pods, flowers and natural debris.
Kids International is passionate about teaching all children and their families about the importance of outdoor play. Activities are planned by teachers each week and all areas are used year round. The children love the mud kitchen when there is lots of snow and ice chunks.
The areas that we have created are a pea gravel rock pit and digging area that also has a sandbox A climbing mountain surrounded by mulch. A stage area with multiple levels and a structure that children can climb on and up and sit under made from natural materials. A pathway winds around the edge of the areas and two separate building zones. A playhouse is nestled under shady trees. A large mud kitchen and a grand assortment of real metal pots and pans is tucked between the path and beautiful bushes. There is a digging pit under a tree where children can dig in mud and move stones and stumps There are many large logs that children can roll and carry to where ever they wish to sit. There is an outdoor area complete with three easels, picnic table and a shed for storage. We also have a garden area where each spring the Pre-K class plants and tends to a garden of tomatoes, peppers, herbs and other vegetables. Our outdoor classroom has grown and changed over the years and benches and garden statues have been donated by families and graduating classes. We also boast a good sized covered patio where tools and things can be stored as well as where every child in our school keeps their mud boots to use when exploring when we have wet weather.
We continue to update and add things to our environment based on the interests of the children enrolled. As most items are exposed to the elements things are always changing season to season. We are proud of this unique space that children are free to explore and play and create with many loose parts and found items.