The Nature Explore Classroom at
Kids Korner
Accredited Family Child Care
The Nature Explore Classroom at Kid's Korner came about after owner, Eddie Portz found a Nature Explore Resource Guide at a doctor office.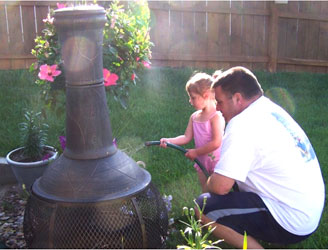 After being told she could take the book home, she showed it to every parent at pick-up that day. At the end of the day she realized that parents were just as excited about a Nature Explore Classroom as she was! In November, at their Thanksgiving Dinner, all gathered around, sharing and discussing ideas for the new classroom design. In the beginning of December, at the annual parent meeting, the new design was discussed with great excitement. After putting a lot of thought into the layout and designing around existing structures, the space was transformed quickly.
In the beginning of January, a note was added to the front cover of the Nature Explore Resource Guide asking each family to go through the book and mark what they would like to see in the Nature Explore Classroom. The parents were excited to have input in choosing new materials and they started sharing resources that could help with developing the classroom. One parent shared the name of a tree service he previously work for. That owner donated and delivered tree stumps and tree cookies needed for the new classroom and even hollowed out tree stumps for the climbing/crawling area. Two different grants were also awarded.
Beautiful signs were made by a family within the program, designating each of the areas. A large grassy area supports active play for all ages with balls, parachutes, music and movement activities, running, jumping, and water play. A crawl through log, climbing stumps, large tree cookies, and a play house make the climbing/crawling area a very visually inviting space. The messy materials area contains wheelbarrows, loose tree limbs, mulch, hay bales, tree cookies, and is full of open-ended experiences and discovery.
A big tree stump is used as a building platform for tree cookies and wooden blocks of all sizes and shapes. The nature art area contains a tree stump table and chairs, a brightly colored outdoor chalk board and baskets of wheat, pods, pine cones, sea shells, twigs, and rocks. The music and movement area contains rain sticks, dancing scarves, rhythm sticks and wooden frog instruments. The garden areas and raised garden beds contain vegetables and many other beautiful plants and vines. A host of outdoor furniture, placed under a big, beautiful wooden and lattice pergola serves as the gathering area. In the spring and summer the beautiful, brightly colored, fragrant flowers and plants from the container gardens make this area very relaxing.
During mid-April, Kids Korner will be hosting a parent involvement activity called "Let's Get Growing". This event will include planting flowers, a vegetable garden, herb garden and container garden. This outdoor learning environment is a colorful extension of their inside world and promotes child development by reinforcing and encouraging physical development through an appropriate environment, activities and interactions for children of all ages.
"The goal and overall design for our new Nature Explore Classroom is to support and encourage physical activity and healthy eating, by building balance and coordination during active play while connecting children and their families with nature." – Ms. Eddie

Address
10014 E. Clark
Wichita, KS 67207