Kinderplatz of Fine Arts
In our Nature Explore Classroom, we explore with all things Art! The children can create with natural materials to build fairy houses, nature weavings, and habitats. The children paint, draw and build as forms of expression and to expand their imaginations. The Nature Explore Classroom is also a way for the children to explore a variety of textures and sensory play.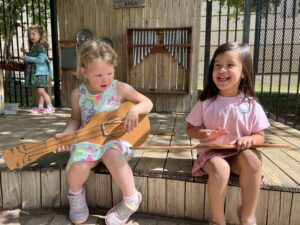 The Block Building area is a great space for the children to construct houses, airplanes, cars, trucks, pet stores, and an assortment of other imaginative creations using blocks. Their play comes alive when using nature items and vibrant fabrics, allowing the children to create amazing stories with their block adventures. This designated block area is a space for nurturing the children's analytical thinking, organizational abilities, and engineering skills.
In our Gardens we observe apple and plum trees and look for seasonal changes. Children observe bugs, birds, and all living creatures that they see and find. We build sandcastles and structures, and search for hidden treasures in the sand box. The children explore with sensory play enjoying water, mud, dirt, rocks, shells, and water.
The Messy Materials area is a magical place where children can let their imaginations run wild and be creative. They enjoy playing with different things like PVC pipes, stumps, sticks, rocks, leaves, acorns, and colorful materials. They pretend to be pirates, animals, engineers, inventors, and more. One of their favorite activities is building make-believe fire pits and pretending to go camping. Playing with all these messy materials also helps them improve their gross motor abilities, problem solving skills, and mathematical skills.
The KFA Music Stage in our Nature Explorer classroom is full of joy and creativity. The children are free to create their own music by improvising with their friends or by themselves. The children also can lead their peers in music making as well as follow their peers by adding to their musical creations. The Music Stage is a center for creativity and free thinking that supports the children's self-confidence and cooperation. Our music area includes pot lids, xylophones, mallets, and other small percussion instruments that are provided from our indoor music classroom.
Time in the Sand/Climbing area is a wonderful sensory time. The boys and girls love building sandcastles. We have climbing opportunities in the sandbox for easy landing. These areas can get as imaginative as the children will go—digging for buried treasure and digging motes around sandcastles. On beautiful days we take our shoes off to feel the sand between our toes. We bury our feet (even our legs) and add mermaid and merman tails. When the rain refreshes our sandbox, we use sticks to write our names and draw pictures.
During Water Play, children develop many skills including motor, social, language, mathematical and science skills. By providing an assortment of cups in buckets, children can learn math and science concepts like volume, capacity, and motion. Water play with others also encourages rich conversations and problem-solving skills.