Kinderplatz of Fine Arts

At Kinderplatz of Fine Arts we believe every subject can be taught outdoors. Since becoming Nature Explore certified our students and teachers have a clear understanding of all of the great areas in our gardens that have been created for certification.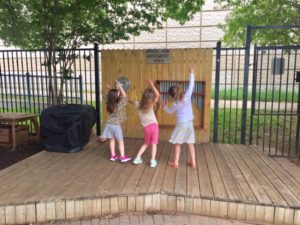 On a daily basis, children and teachers enjoy learning, painting, dancing, digging, building, experimenting gardening and more. We love it so much that this year we will be extending our outdoor classroom to our Jack Savell Memorial Nature Reserve adjacent to our schools and the Trinity River. It will include all of the important aspects required for Nature Explore certification and more!