Kinderplatz of Fine Arts
Garden Area
We build sandcastles, act out stories on our berm like "The Gingerbread Man" and "Three Billy Goats Gruff", we search for different insect life, fly kites and picnic for snack time and lunch time. We also planted a vegetable garden. The children planted zucchini, radishes, and carrots. The classes also enjoyed digging in dirt, planting seed pods and watering.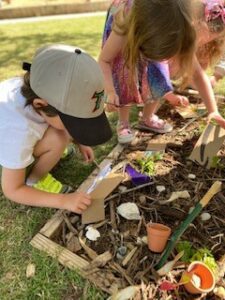 Music
The children are free to create their own music by improvising with their friends or by themselves. The children also lead their peers in music making as well as follow their peers by adding to their musical creations. The Music Stage is a center for creativity and free thinking that supports the children's self-confidence and cooperation. The joy the children share as they make music in a natural environment is exciting.
The Messy Materials Area
This area is a magical place that allows children to use their imagination and foster their creativity. The children enjoy using various materials like, PVC pipes, stumps, sticks, stacking rocks, and material to create different stories. The children pretend they are riding on a unicorn going to a magical land, etc. They also drape materials to create a hideout spot to bird watch. The messy material area helps strengthen the children's gross motor, problem solving, and engineering skills.
Block Building Area
The block area is a great space for the children to build their gross motor skills, analytical, problem solving, organizational, creativity, and imagination and engineering skills. The children use the blocks to create houses, ice cream trucks, spaceships, cars, rockets, and pet stores. The children enjoy using the fabric and nature items they find outside to add to their play. The children love using blocks to take their friends on rides to faraway places.
Sand and Climbing
The children had phenomenal adventures while utilizing our sand and climbing areas. These areas provide many opportunities for learning: science, language arts, sensory development, dramatic play, personal responsibility, and practical life skills. We watched the children grow stronger and more confident as they climbed the rope ladder and rang the bell. The children loved removing their shoes and imagining they were on the beach. They dug moats, rivers, and underground tunnels, where they floated acorn boats. They conducted archeological digs and searched for buried treasure. After it rained, they were excited to use their fingers and sticks to practice drawing new letters, numbers, words, and pictures in the sand.
Art
In our Nature Explore Classroom, we combine materials grown in nature with our imagination! The children paint with nature brushes, build fairy houses together, trace tree shadows, explore textures in the sand, paint pictures of nature, and create collages with leaves, petals, and grass. While exploring the gardens, the children are building strong fine motor skills along with exploring the outdoor classroom's beauty through art!
Waterplay
Children learn many skills working in the waterplay area. They enjoyed filling containers with water and measuring with a variety of tools. Children carry large amounts of water bins and use small squirt bottles. Language, math and science skills are learned as children experiment with volume and weight of water.