KLA Schools of Plainfield
We believe that spending time outdoors is beneficial for young children. That is why we created an Outdoor Classroom, so children have endless opportunities to appreciate and learn about nature and animals that are within our environment. While the children are in our Outdoor Classroom, we provide opportunities to explore and research what is happening. Throughout these moments, the children are curious and have questions and then we provide opportunities to test their theories and find answers.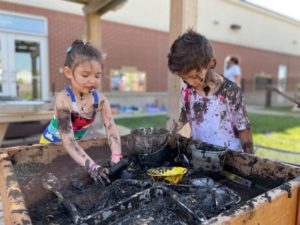 Our Outdoor Classroom has three different areas; a space for our infants and toddlers, our preschool children and an organic garden. We have play structures, a musical wall, gadget wall, storage, mirror, chalkboard, mud kitchen, sensory tables, sensory walk, easels, benches, tables, a large space to meet as a group, garden beds for vegetables, flowers and plants.
In our organic garden, our classrooms work collaboratively to plan and care for the vegetables and plants. Throughout this process, they decide what to plant, plant the seeds in seedling trays, then transplant them into garden beds. During this process, the children observe changes, build a sense of community while working together and then cook and sample the produce.
This year, our garden was a success. We owe that success to collaboratively reflecting on the previous year's planning and adjusting. We worked with our maintenance team who replaces the soil in the beds to be ready for May. Planting in June allowed time for them to adjust before excessive heat. The classrooms coordinated specific days and times to water the plants and looked at the weather ahead of time to determine if they would need additional watering. As the children spent time outdoors, they were able to connect with the other classrooms and share and care for their space.
Due to COVID restrictions, we could not have guest speakers come inside the building, so we utilized our Outdoor Playground for presentations. Ms. Katie, from Plainfield Library, came and read to the children in the garden. We also had a DJ set up outside for an interactive outdoor dance party.
Our Outdoor Classroom is an important aspect of our school. We believe that children learn from the environment and we utilize this space throughout the entire year, extending our learning.