Our Lady of Perpetual Help
Catholic School
The OLPH Nature Explore Outdoor Classroom is an ideal learning environment for art, science, and exploration.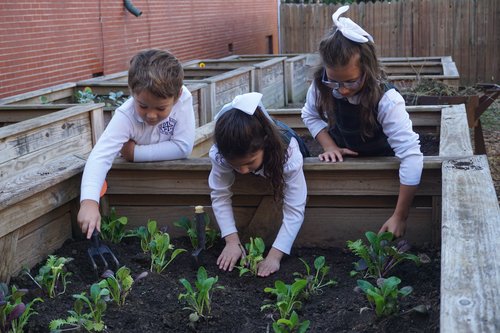 It is a place where our students can experience nature, a place to reflect, and, most of all, a place to enjoy God's creation. Our outdoor classroom includes space for spring and fall planting, art in nature area, gathering spot, messy material zone, and a stage for presentation and playful performance. In 2021, we added a butterfly garden and an interactive musical component for children to enjoy and a new weather station. Students, prepare, plant and harvest crops to be shared with the local Community Kitchen.
One of our parents said it best "When our daughter started at OLPH, we didn't have an outdoor area at home where it was safe for her to play. We would go to Nature's Place after mass, and she could run around and explore. She would tell us about what she learned in each area when her teachers brought her class outside. She learned about bees and pollination. She learned that some plants shed their leaves in the winter, and others don't. She was able to plant a flower and watch it grow. She learned that she does not like muscadine grapes. Nature's Place gives our children the ability to play and have fun while learning about the world around them. The physical outdoor experience makes learning much easier for my children." OLPH Parent Will Diaz