Our Lady of Perpetual Help
Catholic School
The OLPH Nature Explore Outdoor Classroom is an ideal learning environment for art,
science, and exploration. It is a place where our students can experience nature, a place to
reflect, and, most of all, a place to enjoy God's creation.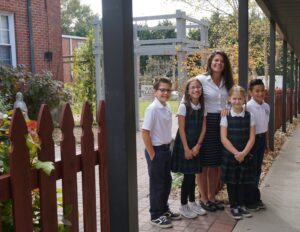 Our outdoor classroom includes space for spring and fall planting, art in nature area,
gathering spot, messy material zone, and a stage for presentation and playful performance.
In 2020 we added our very own weather station, 2021 we implemented a composting plan
to eliminate food waste in our cafeteria and provide compost material for our organic garden
and finally this year we added a beautiful butterfly garden.