Lakeshore Kids & Co.
Infants and Toddlers
This year the infant/toddlers have been very engaged in taking care or their small garden. They often are seen cleaning it and pruning plants.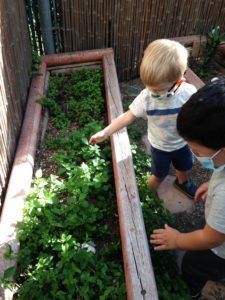 The teachers always invite the children to help harvest small veggies that they grew this season. For example, green squash, lettuce and various herbs. The children have really enjoyed tasting the different flavored mints they planted. The teachers have had many activities using our outdoor akimbira and wooden frog instruments. This spring the infant/ toddlers helped plant new flowers in their large planters outside their classroom. Although Covid has given our school many restrictions. I am proud to say that our infant/toddlers have done an amazing job learning about nature and maintaining their learning environment.