Lakeshore® Kids & Company
This year continued to be a little challenging due to Covid but our school found ways to keep our school engaged with nature. This year we focused on adding more greenery in certain areas of the playground.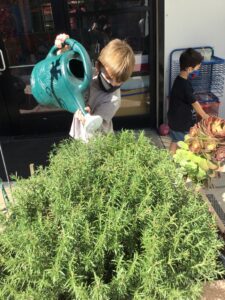 For example, we added grass seeds to areas that are difficult for plants to grow. The grass has been doing fantastic and the children enjoy pruning it when it gets too long. We also focused on planting vegetables that the children can eat or taste. We are happy to say that we have been successful growing, bell peppers, tomatoes, jalapenos, green beans and banana peppers. We are waiting for our first Zucchini . The children have also enjoyed sharing our harvest of various herbs such as mint, parsley, basil and lavender. The families have been very excited to see and take a little of our garden home. The children are so proud to share the stories of how hard they worked to grow all the plants at school.
Our school has also been engaged in exploring our rock garden and exploring mud and rocks while using our mud kitchen. The children also had a chance to see more animals on the playground this year such as birds making nest and new bugs visting our plants.
This up coming year we are excited to have our entire school curriculum based on nature explore. We will be having more activities that bring nature indoors alot more. We will be inviting parents to more nature activities in our school.