The Nature Explore Classroom at
Lawrence Homestead Outdoor Classroom
Opal Lawrence Historical Park, a 13+ acre historical venue, has completed development of their Nature Explore Classroom.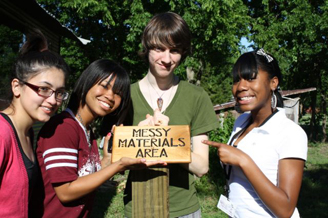 The Lawrence Homestead Outdoor Classroom is a collaborative project between Historic Mesquite, Inc. and Keep Mesquite Beautiful Historic Mesquite, Inc. Current Funders include Union Pacific Foundation, Summerlee Foundation, Historic Mesquite, Inc., Keep Mesquite Beautiful, Inc., City of Mesquite Arts Council, City of Mesquite, First State Bank, Atmos Energy, and Rotary Club of Mesquite. In-kind Funding was provided by Leadership Mesquite 09-10 and the City of Mesquite.
A historical cabin, one of the oldest buildings in the area, serves as an entry feature to lead visitors to 1,380 linear feet of trail. Use of the cabin allows visitors to step back in time before they begin their journey on the trail. The intent is to appeal not only to students of Mesquite's diverse minority community but to their families as well, offering opportunities for family outings. Interpretive literature is written in Spanish and coincides with the signage and overall historical view of "going green".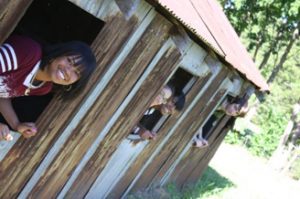 An earthen amphitheater allows organizations to offer hands-on learning experiences for both children and adults. Seating remains natural and accommodates a maximum of 250 for nature talks, demonstrations, historical lessons, composting/recycling training, master gardener lectures, or small musical events.
This site is one of the few areas in town that retains its native grasses, views and wildlife and with their Nature Explore Classroom completed; this site offers varying ways for children and families to connect with nature.

Address
701 E Kearney Street
Mesquite, TX 75149
Classroom website