The Nature Explore Classroom at
Leaps and Bounds Daycare
Our outdoor classroom was created after the provider, Kim Stickell noticed the toys were not being played with and that the children showed an interest in bugs, leaves, exploring with magnifying glasses, measuring and scooping.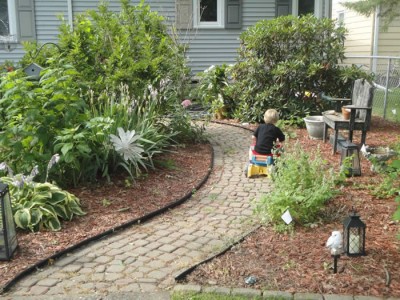 Kim began researching outdoor play areas as well as attended Nature Explore training in her area. For Kim, having an area that did not look like a daycare yard and one that her family could continue to enjoy after daycare hours was important.
Kim says, "It's frustrating to hear (from families who are interviewing for an open space) that their children are not getting outside on a daily basis. We spend a lot of time outside. I educate other providers about taking books outside, crayons, paper, scissors, anything you can do inside in your classroom, you can do outside. You might need to incorporate a clipboard for each child to hold the paper but the children can draw the bug they see, graph the number of bugs they find or trace the leaves. There are so many things you can do outside."
Kim continues to add plants that help attract Monarch Butterflies. She attended classes on raising caterpillars from the egg until it is ready to be released.


see most recent
Address
3529 19th Avenue
Moline, IL 61265
Classroom website