Lena Pope Early Learning Center
Time outdoors in our Nature Explore Classroom continues to be the favorite part of the day for our children. The amount of learning that occurs there never fails to amaze us. The learning experiences can be as simple as sitting on the deck watching the birds fly by or a more complex activity like building a tall castle with many turrets out of mini bricks and mortar.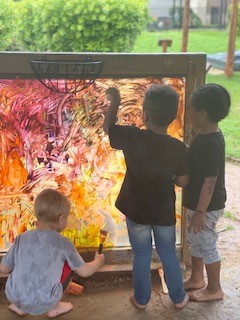 Our teachers are adept at utilizing the classroom for all different types of lessons. Most recently, one of our Preschool classes took their exploration of outer space out into the Nature Explore Classroom. In our group area, they used a telescope to look at the morning moon and then used natural paints to draw the solar system on our outdoor easels. The students are still talking excitedly about their outer space adventure.
Over the winter, we noticed that when working in our planter boxes, the children love to add in little rocks and pieces of material and this gave one of our teachers the idea of a fairy garden. When it was time to pull up our winter garden, instead of immediately planting our spring garden, we allowed it to remain empty (filled with dirt) and let the children design/make a fairy garden. We have brought in small houses and some items from aquariums and the children have made items out of scrap material as well. All ages of children love the fairy garden and their imagination and creativity really shines through when they bring a found item from home or that they picked up outside, to add to the garden. It is a wonderful display of team work, with all classes participating.
Finally, our story must include our mud kitchen, as it remains an amazing source of learning for our children. Most recently, we've been using our measuring skills, working on new vocabulary and counting, while "cooking" in the mud kitchen.