Lesly's Friends Child Care
With the Nature Explore certification, we are more excited to go outside to play and explore.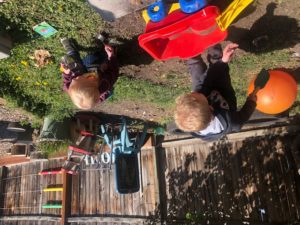 Creating art with little branches and stones, jumping on the trunks of trees,  and playing in the dirt are the most popular activities of the children. They love exploring and feeling the sensation of mud in their hands, making "cakes and houses".
I have enjoyed seeing the children engaged in watering the plants, collecting rocks and different leaves from the trees, and using magnifying glasses to look at insects. Children who participate in Nature Explore activities spend more time outdoors and have many health benefits such as a healthier lifestyle, increased physical activity, a lower percentage of diabetes and obesity, increased learning and attention, positive emotions, and increased connections to nature which decreases stress. Our Nature Explore classroom is a dynamic, nature-based learning space.