The Nature Explore Classroom at
Lesly's Friends Child Care
As a family daycare, we have been working for the last few years to bring the children somewhere safe, magical, fun, and complete. To enjoy the activities in the open air we constructed our playground. Which includes swings, climbing walls, stairs, rope climbing wall, and a slide.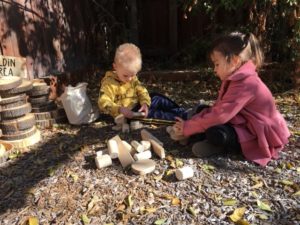 Off to the side of our playground, we have kitchen utensils donated by the parents of the children under my care. With the pot and pans we made our "Music Area" which helps us feel the movement while we work on our "Salsa Garden" which started out with a few gardening pots which we used to plant tomatoes, parsley, onions, and peppers. The children got to learn hands-on, that tomatoes need more sunlight and not as much water. We used plant pots until we used our inner stonemasonry and organized stone bricks and wooden planks to create our official gardening area. Secure enough to keep the critters away but not secure enough to keep the hungry fingers away. Each year in April, to celebrate Earth Day, we usually plant pumpkins, to be ready towards Halloween.
Like I said in the beginning, we are a family daycare with the ambition to provide somewhere fun. Somewhere where the children can enjoy each season of the year in our backyard. I find myself reminiscing about the simple days of my childhood. To go and play and only return to grab some food off the table or until the sun is finally setting. To have dirty hands from all the dirt and mud, knees stained by the dirt, hair full of pebbles and the rosy cheeks from all the running around, enjoying the simple things. That is what I aspire for the children that live in this city. A place where you can hear the singing of birds, where Mud pie is the only meal on the menu, where fruit is eaten directly from the plant while they feel the wind blowing through their hair.
With only a few safety reminders at the beginning of the day, we let the children do as they desire in our backyard full of adventure. We even bring snacks and water so we can stay longer without interruption. My intention was to give them plenty of freedom. To create their own way to climb heights for their own specific desires. One climbs a tall pile of stumps, another balances on a large trunk, while others dance with the colored ribbons, and another child paints the wooden fence with water. They began to work as a team without arguments and started collaborating and brainstorming for special tasks such as moving a big trunk or a pile of materials.
That sums up what I want Natural Explorer to mean in my daycare. Where the children find a place where they can be kids, and where they can be happy. I want this opportunity to thank my daughter, who gave the name to my daycare. And my son, King, who is my right hand in all things. And of course, my mother who helped build the magic inside me when I was young.
Sylvia, Lesly's Friends Childcare

Address
Salt Lake City, UT