Little Beginnings Learning Center
The Backyard continues to be a magical place for children to play, explore, and grow. Each
day our center spends time learning through hands-on free-play, organized activities, and
plenty of time digging in the dirt.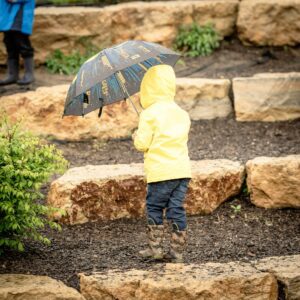 We've worked hard on improvements, both big and small, to keep our space fresh and inviting.
A new load of woodchips not only protects fall zones but makes for excellent loose parts, mud
kitchen ingredients, and even art materials. The Reading Nook is a peaceful and inviting place
to snuggle, read books outdoors, and have a quiet moment. The lattice arch helps vines grow
to create an inviting tunnel and gives a home to more plant life. Our bonus climber in the side
yard has opened up more space for our older children to climb, run, and move their bodies.