Little Brigham Aggies
at Utah State University
Brigham City Campus
Little Brigham Aggies Early Care and Education Center continues to maintain and thoroughly enjoy our Nature Explore Play Garden! It has provided a place of sanctuary and refuge the past few years.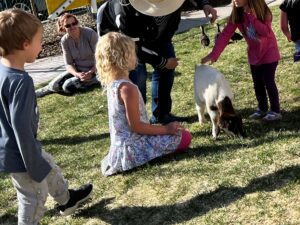 We are outside as much as possible. We eat snacks and lunch there most days. We even hold circle time outside! It continues to provide a fabulous place for our children to work on their social and emotional skills, large motor skills, connect with nature, discover and explore their outdoor world, play with fewer restrictions than inside and learn about plants and how they grow, to name just a few of the many benefits it provides.
They love the mud kitchen and experimenting with mud and all kinds of materials as they prepare "tasty" dishes. We have built forts in our tree house complete with hammocks. The children love to help plant and harvest. They pick grapes and strawberries right off of the vine to eat.