Little Creek Nature Area
We have continued to add to our space with a new drum and several musical instruments that have allowed students to engage even more with their musical interests outside.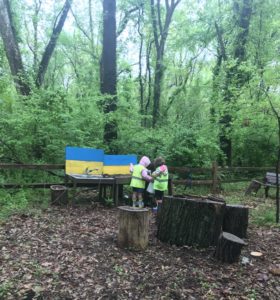 While the last year has been extra challenging with the pandemic, children are able to be explore at Little Creek while socially distanced and masked. Our pre-indergarten classes are able to have their annual spring field trip to Discovery Classroom and Little Creek this spring.
The most significant addition is that 2 of our pre-kindergarten classes have been able to make Discovery Classroom their outdoor classroom twice a week. Little Creek Nature Area, with its Discovery Classroom, has provided a place for students, parents, and community members to come to seek peace, inspiration, and understanding.
A quote from John Burroughs puts it quite well, "I go to nature to be soothed and healed, and to have my senses put in tune once more."