The Nature Explore Classroom at
Little Leapers Child Care Center, LLC
Little Leapers Child Care Center strives to provide ample outdoor time and high-quality experiences and education to the children we serve and their families. We support hands-on Learning Experiences and Free Play in our indoor and outdoor classrooms.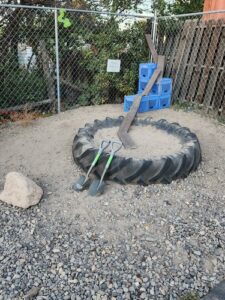 Staff, students, and parents were involved throughout the process of applying for the Nature Explore Program. Being educated about the Nature Explore program, the certification, and the importance of outdoor play and education of the program will forever have a great impact on our school and the families we serve.
The outdoor classroom includes: An entry area, open area, music & movement, nature art, art, messy area and mud kitchen, sand area, water area, climbing and crawling area, garden area, gathering area, storage benches, wheeled toy area, teepee & reading area, open-ended material & building area. Our outdoor classroom allows children to use their creativity and imagination
helping them grow, develop, and learn.
Our students favorite things to do in our outdoor classroom is to find and learn about bugs, plants, and animals. They enjoy planting seeds in the early spring inside then planting them outside in
our garden area. The students enjoy learning about the plants, nurturing them, and enjoying their bounty. The pumpkin patch and the strawberries are the favorites along with our newest plant this year, the Eggplant. Digging for treasures in the sand area and creating mud pies and birthday mud cakes in the messy area are a daily creation.
Creating our outdoor classroom will forever positively impact our students lives.
Address
360 West 100 North
Beaver, UT 84713
Facebook