Little Munchkins Preschool Inc.
Now more than ever having our Nature Explore Outdoor Classroom was so crucial to our programs, families, and staff. Having a space outdoors where we can share, learn and explore was a tremendous help in coping with all the new regulations implemented during the Covid-19 pandemic.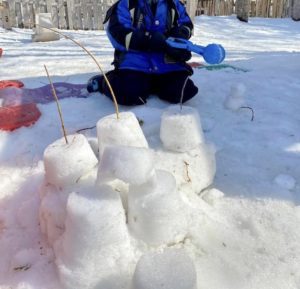 We focused on making sure our outdoor classroom was as functional and engaging in the winter months this year as it is in the other months of the year. We added to our winterized building area by adding various winter items, such as shovels, scoops, buckets, snowball makers, barrels, sticks, limbs, twigs pine cones and we even put planter boxes in there as they can be used to make pretty cool looking snow bricks for building!
We also made sure that our art area was winter-ready by always having open-ended materials available to the children to create beautiful art with the snow and ice and natural materials around the outdoor space.
We also had the children help us build a cozy teepee out of branches, twigs and twine for our winter gathering area as most of our benches are covered under multiple feet of snow. We loved having the children be involved in the process and it added so much value to our classroom.
This year we plan on spending even more time maintaining and created new concepts for our outdoor classroom. We also want to do a lot of planting as we could not last year due to be closed during planting season due to the Covid-19 pandemic.