The Nature Explore Classroom at
Live and Learn Early Learning Center
Live and Learn Early Learning Center is one of the original 13 Strengthening Families sites in the state of NH. Chosen as one of the nationwide initiative sites, they have continued to embrace the principles of the project.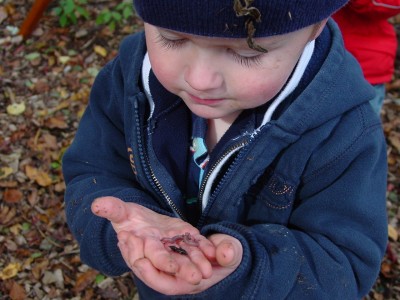 Family events are held year long which embrace the mission of connecting families and children to nature and each other. Frequent stay and play afternoons are held where families can join with their children to engage in learning activities, share their talents and help enhance areas of the classroom.
The past year brought a multitude of activities. A celebration night was held in August where all participated in an outdoor carnival. In September, a live play was held at the outdoor theater. October brought a themed walk through the woods on a lit trail and apple cider making with an old cider press and apples from school trees. In April, a nature-themed art show was held. Winter fun always includes snow-shoeing, sledding and playing in the snow while hiking and outdoor games are always favorite activities at the site.
The areas of the outdoor classroom were developed after watching patterns of play and movement of the children, thus allowing the natural pathways to stay. Indigenous grasses and plants were incorporated for durability and care. Plantings and tall grasses define areas and provide visual boundaries while rocks line garden areas.
Live and Learn Early Learning Center's space is designed to allow multi-discipline play and carry over while promoting open-ended discovery in different ways. Children are surrounded in natural beauty that invites engagement and reflection.

Address
114 Mast Road
Lee, NH 03861
Classroom website