Live and Learn Early Learning Center
This year it was our outside areas that allowed us to re-open and operate. We split our groups down into small groups and utilized our outside. We did not come indoors.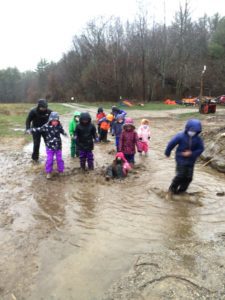 The families drove through our hay field and dropped the children right off at their outdoor classrooms. This year we were able to continue our Family Nature Club with our naturalist in person through March and then weekly by zoom until the end of July. We have used this strange year to start a full-day Nature-based elementary school that will utilize our certified outdoor classroom. This program services children K-4th grade. we have named these classrooms Terramor (to learn to love the earth).
Our site continues to operate on a 25-acre farm with 5 miles of trails through the woods. The children all had a classroom raised garden bed to plant flowers, veggies, and/or herbs.