The Nature Explore Classroom at
Maharishi School
The idea for this outdoor classroom began with parents of preschoolers who wanted a more meaningful outdoor play environment for their children.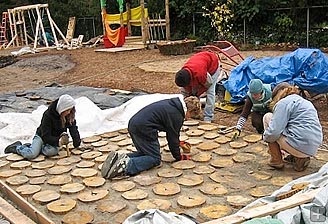 From the beginning of this project, the design team carefully studied the criteria for space division and allocation of various activities as outlined in The Learning With Nature Idea Book. Engaging areas were developed with names such as; Sparkling Springs, Treasure Cove, Tree House Theater, Star Quest, and Playful Prairie.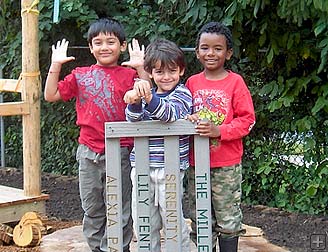 Local gardeners generously share their divided plants to enhance this beautiful and inviting space. Rainwater is used in the water feature, which circulates water over a shallow water feature into a 75 foot, in-ground rain barrel. The water flows over locally found slabs of stone and rock by being hand pumped through an old-fashioned, bright red pump.
Local Osage Orange trees make strong and durable tree cookies, climbing stumps, balance beams and stools. Polymatrix, a highly durable, glossy, protective coating is used in the water feature area and Nature Art area to protect surfacing and aid in low maintenance.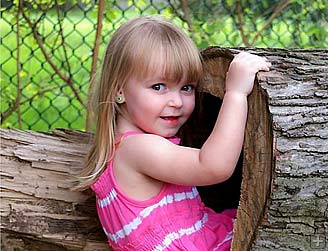 Each area created is a work of art, while surrounding children and visitors in beauty from the moment they enter this Nature Explore Classroom. From the Osage Entry feature to the mosaic stepping stones and hand painted wooden birdhouses, this classroom offers all a place to connect with nature while encouraging children to use their imagination.
An Open House was held to initiate fundraising activities. In addition to a generous grant, the school has raised a significant amount of money through many unique activities. Donations were given for "ownership" of a classroom area. Many people made donations in exchange for having their name engraved on a picket of the fence surrounding the space.
The Maharishi School offers an inexhaustible amount of outdoor play possibilities while providing hands-on nature experiences to children.

Address
804 Doctor Robert Keith Wallace Dr
Fairfield, IA 52556
Classroom website
Facebook