Maka Earth Classroom at Pathfinder Preschool
This year on April 10th and 17th, Pathfinder Preschool was graced with the volunteer work of the  University of Arkansas Pulaski Technical College's Phi Theta Kappa Honor Society.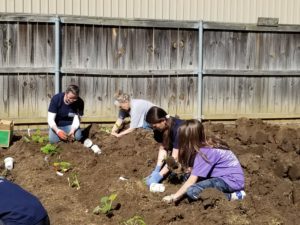 They heard our garden was in need of repair and re-planting due to the struggles we experienced
during our Covid year. Phi Theta Kapp advisors, Jessica Wise and Amanda Kennedy led their
team in rolling up their sleeves and grinding away in the mud to clean up, plant and beautify our
garden and outdoor classroom. All vegetables, flowers and trees were donated by Phi Theta
Kappa. On completion our garden was beaming with squash, tomatoes, cucumbers, snap
peas, watermelon, pumpkins, peppers, grapevines and more.
Flowers were planted and birdhouses and bird baths were placed in the space and ferns were hung in our gazebo. The team also put together new Adirondack chairs. In addition to Phi Theta Kappa, two of Central Arkansas Christian School's students, Ava and Joshua Wise used the garden opportunity as a way to give to the community during their school's "Caring About Community" campaign. Thank you to aII for showing us what is accomplished when communities help communities!