Marina Early Education Center
Marina Early Education Center (EEC) has been a Nature Explore Outdoor Classroom campus since 2019. The Marina team continues to enhance the outdoor space to support student growth and development. Our goal is to mirror indoor learning spaces outdoors by using the Early Childhood Environmental Rating Scale (ECERS-3) as a guide.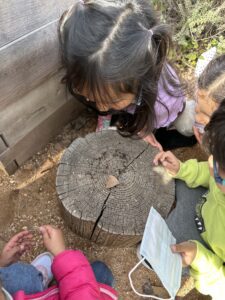 Students currently have access to multiple learning/activity areas: Music & Movement, Nature Art, Gathering, Climbing, Sand, Garden, Building, Messy Materials, and Wheeled Toy Area. Students interact with nature by planting, watering, eating the harvest of sweet organic carrots and strawberries while observing city wildlife big and small. Teachers guide students to use their five senses as they engage in personal scientific inquiries. Students enjoy the freedom of wheeling around our outdoor nature track and climbing with friends.
Our Nature Explore Outdoor Classroom continues to be a magical space. It provides authentic science-based learning experiences that stimulate rich dialogue, imagination, and exploration. Marina EEC is an oasis inside an urban perimeter.