The Nature Explore Classroom at
Mary Kay funded site in Texas
Since 2009, Mary Kay Inc. and The Mary Kay Ash Charitable Foundation have supported the creation of Nature Explore Outdoor Classrooms at domestic violence shelters across the United States.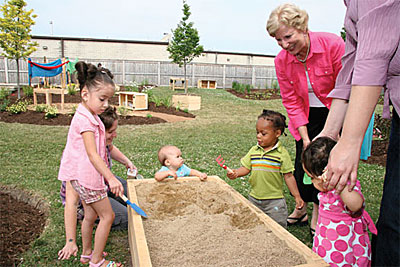 Nature Explore Classrooms are dynamic, nature-based play and learning spaces. Research shows that providing children with meaningful opportunities to connect with nature supports a stronger sense of self-esteem, lessens the impact of stress, and helps children cope with adversity. Outdoor play also inspires children to play together and collaborate while reducing anti-social behaviors such as violence and bullying behaviors which can be common among children who have witnessed abuse.
For the children whose lives have been disrupted by domestic violence, perhaps the most important benefit is the opportunity to begin to heal through nature. Because of the need for privacy and security, Nature Explore has agreed to keep the names and locations of these domestic violence organizations confidential.