The Nature Explore Classroom at
McGuire Air Force Base Youth Program-Treetopia
The children at McGuire Youth Program created their own unique names for the clearly defined areas in Treetopia.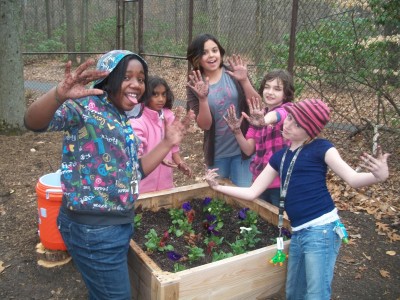 From Stretch Out and Total Drama to Chillax, the areas have fun, distinct names. This Nature Explore Classroom is fortunate to have many mature trees, providing shade throughout. Careful planning went into ensuring clear views of the youth.
Older pre-teens used wood burning tools to create signs made from wood and attached them to existing trees with non-damaging adhesive. All areas are labeled with signs, divided by borders and contain a variety of surfaces.
Sweet pepperbush, ferns, hostas and blueberry bushes take advantage of the sandy soil and natural shade. Blueberries were selected as New Jersey is the blueberry capitol of the United States. Many little hands have helped fill the planter boxes with flowers. Natural growing moss, seasonal changes from the leaves on the trees, river rocks and an array of bright fabrics add interest and color to the outdoor classroom. The youth and parents created rain barrels that are used to collect water for the plants.
Families, youth and staff have been hands-on in creating the Nature Explore Classroom and proudly watch as this amazing space flourishes and is enjoyed by so many.

Address
3830 E. Scott Street
McGuire AFB, NJ 08641