The Nature Explore Classroom at
Memphis Botanic Garden
My Big Backyard at Memphis Botanic Garden is the first certified Nature Explore Classroom in the state of Tennessee.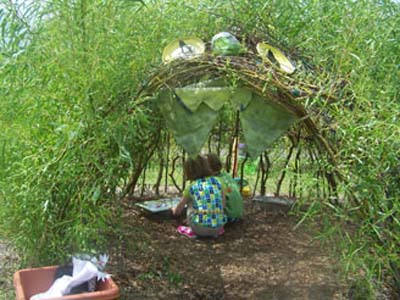 The 2.5-acre Children's Garden was constructed to create 16 featured play and learning areas and includes a wide variety of beautiful and unique plant life. Designed by Memphis Botanic Garden education and horticulture staff working with Terra Design Studios of Pittsburg, PA, it was completed by Zellner Construction Company.
Throughout this classroom, natural materials create a landscape that is fun and functional while creating a sensory experience. Areas are separated by natural fencing and contrasting surface materials such as; trees, bamboo, large and interesting bushes, vines, white picket fencing, and wavy brick walls.
A bird-shaped stone path in the Leaping Lawn area invites children to follow a winding path through the soft grass. Four worm tunnels underneath a roof of tall grasses let children use their imaginations while crawling through the soil, creating the sense that they are the size of a worm. A life-size spider web provides another place to crawl, climb and pretend.
A gourd tunnel invites crawling while allowing an underside view of growing snake gourds. Also in this classroom are a large bean-pole teepee and a willow dome. A sedum and moss-covered sofa and chair give new meaning to the name "living" room. Beds, covered with growing plants create a peaceful, homey look in the garden. The Birdhouse Discovery Room and Birdfeeder Observation Platform are perched on top of 10-foot diameter, Sequoia tree stumps.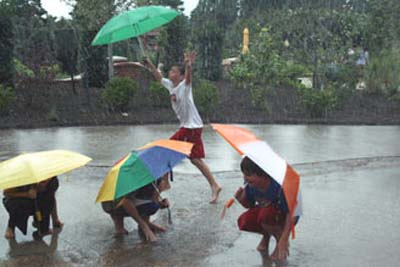 The music and movement area, with its three custom and locally made percussion instruments and shakers and dancing scarves invite children to the magic of performance. Mosaic butterfly and bee patios are utilized for classes while tables for picnics, rocking chairs and benches provide resting space in areas of the classroom.
Family involvement is a continuous priority for many individual and group hands-on learning opportunities. The level of involvement by families and friends shows that My Big Backyard is a beloved addition to the Memphis Botanic Garden.

Address
750 Cherry Road
Memphis, TN  38117
Classroom website