Meridian Hills Cooperative
Nursery School and Kindergarten
Our Nature Explore Classroom has continued to be the heart of our preschool and kindergarten programs.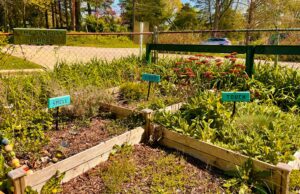 The children have enjoyed movement, music, creation, socializing, climbing, experimenting and exploring in this outdoor space. They have learned very important skills to help them with their future and their confidence. We have maintained our gardens including the herb garden, sensory garden (where they can smell, touch and taste) and perennial beds, to help our pollinators! This was my family's first year here, and we have personally enjoyed every minute of this process. We love how much this outdoor space is utilized, not only for play, but for gatherings as well.