The Nature Explore Classroom at
Messiah Lutheran Preschool and Kindergarten
Our Journey into Nature at Messiah Lutheran Preschool and Kindergarten in Wauconda, IL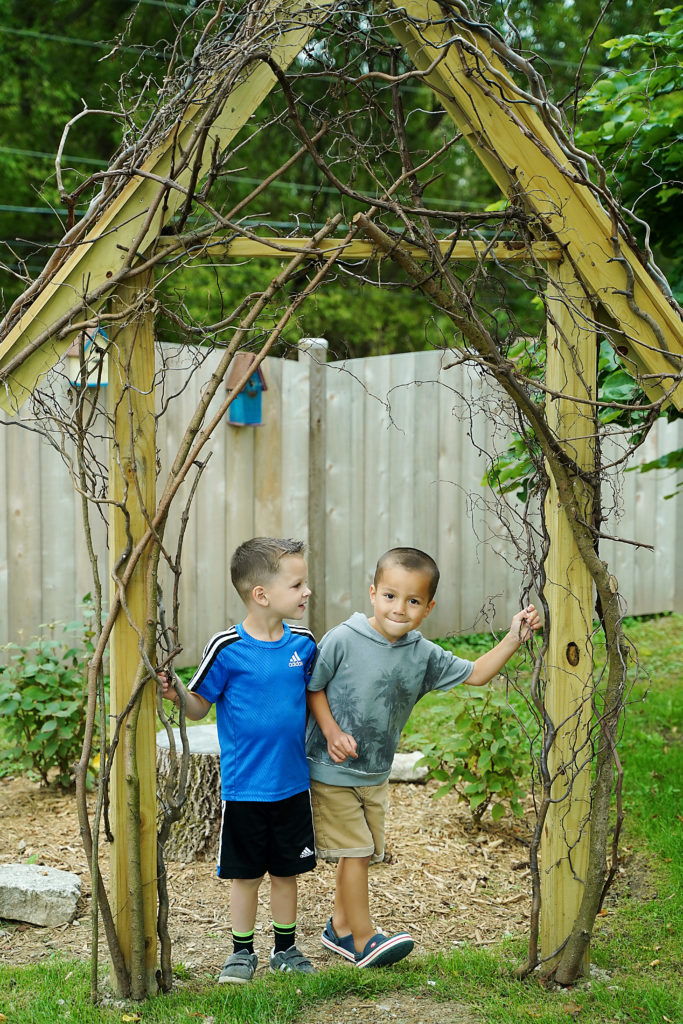 In the summer of 2013, a seed was planted.  Two of our seasoned staff members attended an outdoor classroom workshop in Iowa.  They came back bubbling with excitement, eager to share their photos, ideas and more. After receiving an enthusiastic nod from our School Board, Project Playground was born!
Our school is situated on a large plot of land, surrounded by wooded forests, farms and gardens-a perfect backdrop for our journey into nature.  Bit by bit, we added, tweaked and transformed our large outdoor space into a natural haven for our eager adventurers. We have designed cozy, natural play spaces for our preschoolers, maximizing our physical space and encouraging a constant flow of creativity and imagination!
Our Music and Movement Area consists of vintage pots, pans, xylophones and other items affixed to a fence.  Students' tap, pound, pluck, strum and sing along with their own beat.  Scarves and movement props are available for informal play. Digging has always been a favorite for our preschoolers-both indoors and out!  Due to high demand, one of our preschool parents set to work constructing a large raised sandbox for our outdoor classroom.  Adjacent to the sandbox, we built a mud kitchen, complete with an antique wash basin, hooks and shelves for storage.  Our students can often be found concocting sand pancakes, complete with a dollop of mud-YUM! In addition to our sandbox, we created a messy site for our daring diggers.  Students dig, scoop, dump and clear paths through wood chips, hard at work in their self-made construction zone.
Our Gathering Area was created with the assistance of a summer storm in 2014.  A large tree toppled on our playground.  With the help of a few church volunteers, we soon recycled our old tree into child-sized stumps.  We placed the stumps in a semi-circle under a covered pavilion-the perfect place to gather for a story, song or just to chat with friends.
Bugs (and kids) rule on our playground, and we wanted a designated home to release our butterflies that we hatch each year.  Our Pre-K students set to work creating an Illinois native garden in our outdoor classroom.  A path weaves through the center of the garden for careful observations of the plants and many-legged critters crawling through the soil.  It is such fun to see the plants grow and change with the Midwestern seasons! Our outdoor classroom offers a little something for everyone.  We love the creativity, imagination and enthusiasm that is generated through and with nature.
A huge thank you to the following for their assistance in making our dream come alive: Midwest Tree Service, Acres Landscaping Company, Perricone Nursery, Randy Johnson, Teresa Neumeier, Heather Wold, Megan Maliszewski, Meagan Lambert, Lynda Janezic, MLPK Board of Education, Andrew Jawnyj, Nick Jawnyj, Dennis Koletsos, Crystal Rubenstein, Sherri and Brian Boelke.
Erica Jawnyj, Director

Address
25225 West
Ivanhoe Road
Wauconda, IL  60084
 Classroom website