Messiah Lutheran
Preschool and Kindergarten
Our nature playground continues to grow and change each year-much like our young learners! We embrace natural play daily, and are eager to explore what each season brings us-from peeking at the first green buds of spring, to watching leaves turn red, yellow and orange in the fall, to catching the first snowflakes on our mittens!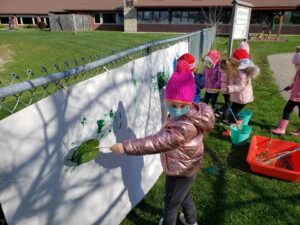 2021 brought some changes to our nature playground! We expanded our Block Building area-adding more loose parts and natural blocks for building and engineering. We love bringing dinosaurs and other pretend animals into the block building area to build habitats and unique structures! We added more stump tables and log seating to our outdoor kitchen area. We also planted a gorgeous red maple tree on our playground in honor of our much-loved office manager's retirement. We have enjoyed watching it grow, and will soon be able to have a cool break under its shady foliage.
We also hosted our very first Earth Day Playground Playdate in our outdoor space! We hunted for colors on a scavenger hunt, made natural prints in clay, searched for bugs, and painted a school-wide mural with leaves, branches and other natural paintbrushes. What a wonderful way to celebrate our planet!