Messiah Lutheran
Preschool and Kindergarten
2022 was a VERY exciting year for our nature playground at Messiah Lutheran Preschool and Kindergarten! Using funds received from a grant, we were able to execute phase 2 of our nature play space!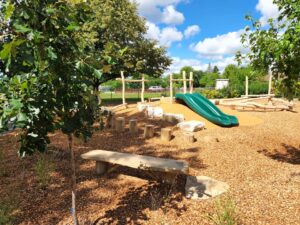 We were thrilled to once again work with GRG Playscapes in Milwaukee, Wisconsin to dream, plan and finally build. We added a dry riverbed filled with smooth stones in various sizes-perfect for stacking, sorting, scooping and digging. A hill was crafted with concrete, and covered with a sustainable cork. An embankment slide was built into the hill-making it the perfect spot for running up and sliding down! Log beams and large boulders were installed for balancing, clambering, jumping and climbing.
We added 2 sets of swinging loops to build our upper body muscles and strength, and log benches under the canopy of trees for a cozy spot to rest. All in all, a magical vision came to life! We are so pleased to have such a unique and exciting playground for our young learners to explore each and every day!