Messiah Lutheran Preschool
We are so grateful to have some incredible support from our preschool families and community that has allowed us to be able to continue to add on to our outdoor classroom each year. This year we were able to add a pallet vehicle. With the use of their imagination, the children have turned this into a bus, car, airplane and a boat to name a few. They have gone on many adventures.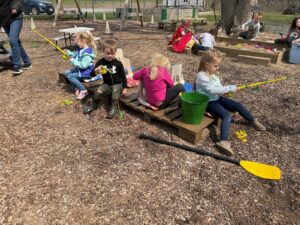 Another item we were able to add was our mud kitchen. Once again, we used a pallet to create the backing. We used an old table and refurbished it to make the mud kitchen. The kids enjoy making many creations in this space.
We are excited to see what other items we can add to our outdoor classroom throughout the next school year. Our future plans include redoing our wooden platforms, creating a garden and a quiet space.