The Nature Explore Classroom at
Montessori Children's Academy
With input from children, staff, parents and a local landscape architect, Montessori Children's Academy worked to modify their outdoor space and make a special place where everyone could learn and grow together.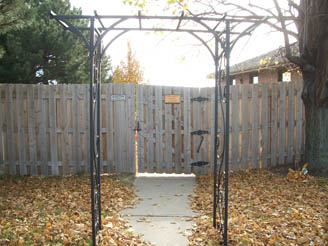 Plantings, berms and surface materials create visual boundaries while delineating areas within the classroom. Simple names and signage are used to provide focus and clarity for children and also provide a link to literacy. Children who are developmentally ready to write words often enjoy drawing maps of the outdoor space, and labeling each area by writing its name.
To ensure visibility at all times, existing climbing/crawling equipment was placed around the perimeter of the space. Visual barriers were eliminated and a sitting bench was placed strategically to allow maximum visibility of the space.
One of the biggest challenges faced by the Academy was noise from a nearby intersection. Planting a variety of trees and plants, many outside the protective fence, helped reduce traffic noise. Using the knowledge of local gardeners and contractors the site was able to ensure that materials were chosen for durability, low maintenance, beauty, visual clarity, aesthetic qualities and maximum shade. A special "non slip" finish was given to the concrete for added safety.
An Open House was held along with Curriculum Night to allow Montessori Children's Academy to share in the excitement and development of the Nature Explore Classroom. Parents are notified of current news and activities through e-mails. Homework Bags are provided for children to take home at the end of the day that encourage parents to participate in outdoor activities with their children.
Address
14340 Harrison Street
Omaha, NE 68138