The Nature Explore Classroom at
Mountain Road Preschool
Mountain Road Preschool was previously the first and only Vermont Certified Nature Explore Outdoor Classroom back in 2013- 2018. I knew when I reopened my program in 2020 I wanted to go above and beyond what I had accomplished back then.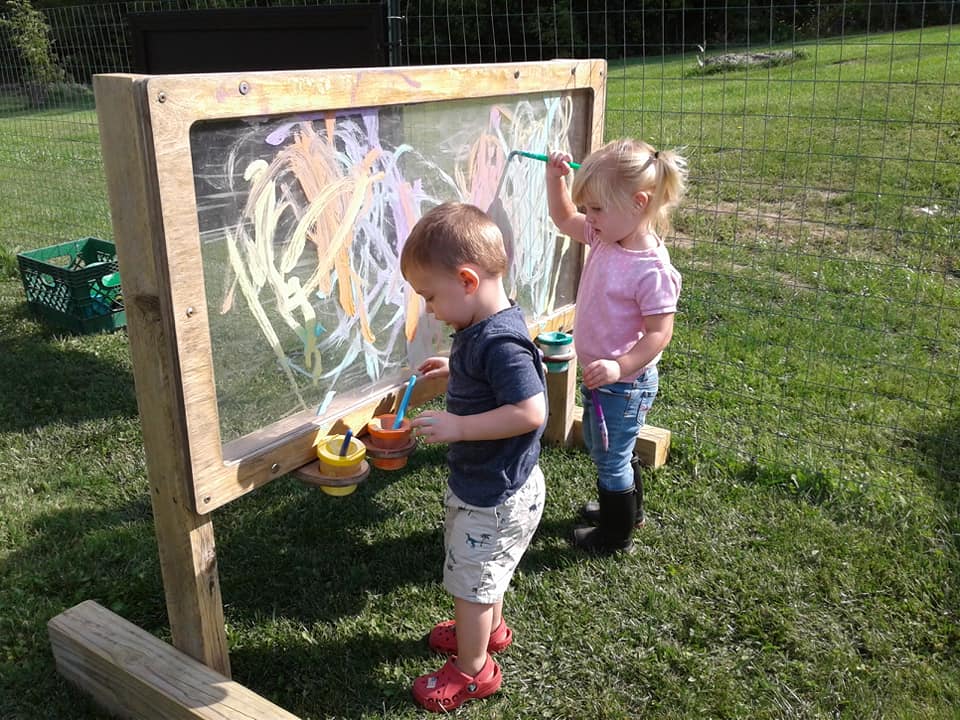 The outdoor classroom was designed and built to be as natural and nature-oriented as possible. It is as low maintenance as possible with wooden materials chosen for long-lasting durability. Separate storage areas are scattered around the space to provide storage and easy access of supplies and loose parts. Handmade signs made of rough-cut wood sourced from the property gave area signs a natural nature feel.
One aspect that had to be recreated was the Music and Movement stage. This space has been the focus of every outdoor playtime with the children. The building and sand areas were duplicated with upgrades of a covered sandbox and an additional climbing/sand area. Climbing rocks and a climbing/slide structure made of large tree stumps were designed and built for the children to experience gross motor activities. Our nature and science area includes a handmade table made with cedar branches and a tile top to enhance nature items on display and for discovery and observations.
When I reopened my program in September of 2020, the news spread fast and I received overwhelming support from the community and families in the area. I consulted with several child care providers and centers in the area for design ideas and was truly moved by the support I received.
Future plans include adding raised beds for a vegetable garden, more plantings of shrubs and plants for aesthetics of the space, and more shaded areas for comfortable use during the summer months. As we use the outdoor classroom the children will inspire what will be added for their explorations and interests.

Address
1035 Mountain Road
Addison, VT 05491