The Nature Explore Classroom at
Mountain View Community Center
Bernalillo County Parks and Recreation
The Mountain View Community is located about 4 miles north of the Valle De Oro National Wildlife Refuge and is the First Certified Nature Explore Classroom in New Mexico.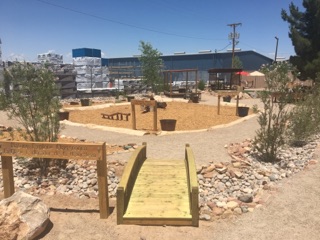 About 3 years ago a wonderful woman came to the community center, her name was Jennifer Owen White. She is the Refuge Manager and one of her focuses was to really make sure that the people in the Mountain View Community understood and knew that the Refuge also belonged to them and that they were entitled to all of the beautiful natural benefits that came along with the Refuge. Through Jennifer, the US Fish and Wildlife Department came to the Mountain View Community Center and said, "We want to be partners with this community and we would like to create a special place for community members and their children at the Mountain View Community Center." Here is where it began.
We had meetings and workshops facilitated by Dimensions Educational Research Foundation and they assisted us with bringing all of our partners together to talk about, plan and design this beautiful Nature Explore Outdoor Classroom, which is to be enjoyed and used by the community as a learning tool and beautiful natural space. In this community we do not have a lot of safe natural growing and learning spaces. The Nature Explore Outdoor Classroom is such an area. This project is an anticipated addition to the programing and learning experiences available to the Mountain View Community at the Mountain View Community Center.
The Mountain View Community Center Nature Explore Outdoor Classroom will be an exceptional introduction to the educational, learning and recreational experiences that the community members and their children will receive as they venture beyond the space of the outdoor classroom and into the spaces at the Valle de Oro National Wildlife Refuge.
Address
201 Prosperity SE
Albuquerque, NM 87105