The Nature Explore Classroom at
Ms LuAnn's Outdoor Learning Lab
I have been providing childcare in my home for 37 years. Children are my passion and I believe play is their work as they are preparing themselves for their future.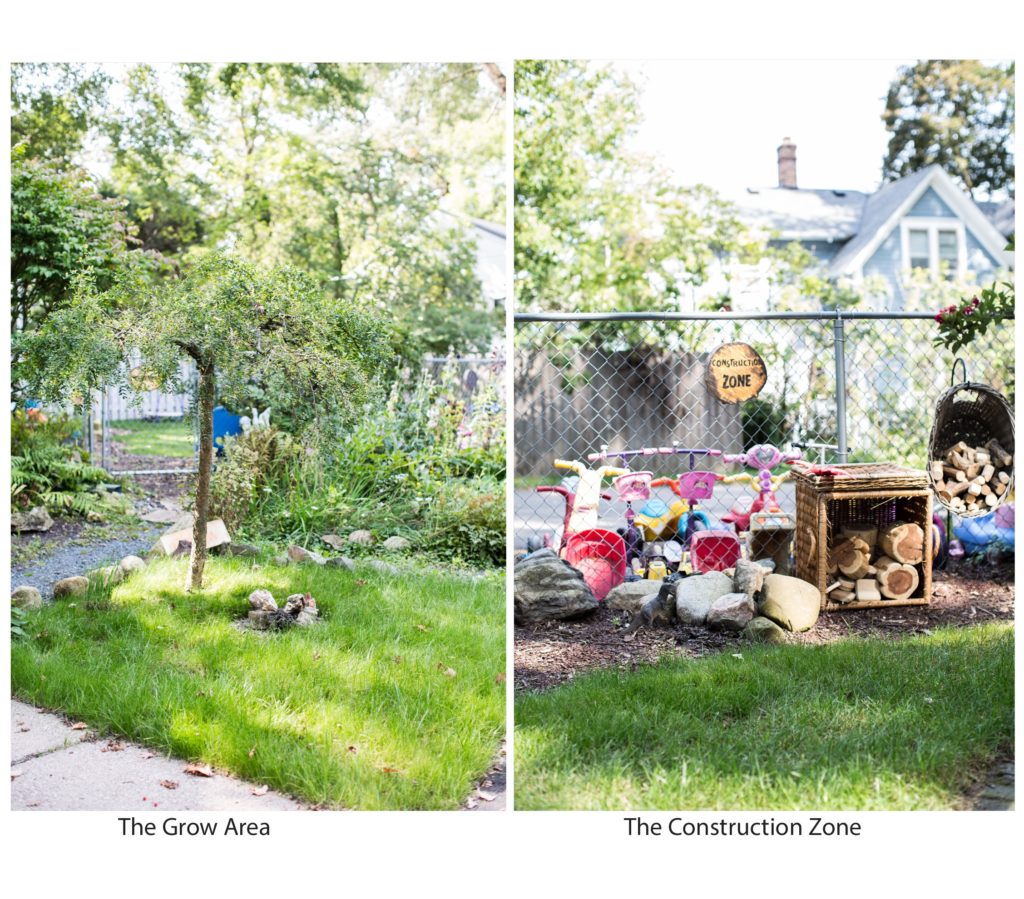 I started creating the outdoor space when I started childcare.  A few years ago, I took a class at the Forest Lake Family Center in Forest Lake, MN.  Vicki, the instructor mentioned their outdoor classroom and I was interested and had to check it out before I left.  The next day, I brought my husband to see.  We were both hooked.
Vicki and I connected once again and she agreed to come to see what I had for a backyard. She was amazed and said I was light years ahead of others and my families were lucky to have me. I came up with names for the play areas with the help of the children. I have also read the "Learning with Nature Idea Book" and have been tweaking the yard ever since, bringing new items in from Nature Explore, such as tree cookies, blocks and dancing scarves.  I had a local nursery come into plant more shrubs, lay some logs and mulch to separate the different areas.
We use the whole yard which includes backyard to the driveway and the side yard.  The front porch is a place we like to gather and have some downtime.  With all the active play, the porch is a quiet place. The children like to build with legos, blocks, read or "just be". I enjoy watching the children explore the world around them, learning to trust their bodies, finding out what they can and can't do yet.
They use their imaginations. I put drain tile in the Messy Area and they wanted to know what it was for.  I answered, "whatever you like". It became a chute for mulch, cars, rocks and when put on their arms, they become spiders. The Hang Out is a place where they use the old clothesline pole for a variety of things. The children become animals, hanging like bats, sloths and of course when I yell "give me an orangutan hang". It's used for fort building and a fireman pole.  One can see how proud the children are when they accomplish getting up there and hanging like an animal or going down like a fireman.
I would have to say The Pit is the favorite place.  There, they can dig, climb and make the best salads, soups and mud pies.  The children can get pretty dirty in The Pit.  Maybe that's what makes it their favorite spot. What kid doesn't like mud? Now that I'm thinking of it, the whole yard is their favorite place to play.  It depends on what they are into on any given day.  Whether it is riding bikes on the garden paths, drawing pretty pictures or making delicious mud pies.
I could go on and on about children and the great outdoors, but I'll stop here and continue providing things for the children to explore and create. Oh, the things they will learn!
Ms LuAnn
Address
Stillwater, MN