Nana's Learning Post
This year we have added a new entry arch gate with a new carved sign. We replenished our music area with new tambourines, a large rain stick, and other music instruments. We added more wind chimes, and a ribbon sensory ring hanging from the tree. We move the hoop around from space to space hanging in the trees for visual and texture interest.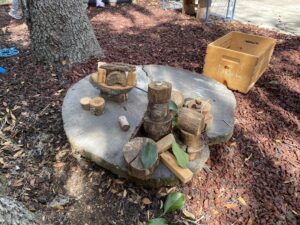 It is so interesting to hear the wind chimes and see the ribbons flowing in the breeze. We joined a local STEAM initiative in our area called ISpy program, and they gave us a preschool size water table as well as a large bin that we use for mud kitchen/exploration along with many other items. We added tubing, funnels, and other fun exploration items to the water table so after they fill it, they can use any of the manipulatives for exploration.
We expanded our vegetables and herb gardens to include cucumbers and potatoes or butternut squash, and pineapples. The children love caring for the plants and watering them to their hearts content. They can see if the plants start drooping and know they need water. They have noted their growth and waited patiently for the potatoes to grow and to harvest them, and the cucumbers and tomatoes. The children are so curious! They eat the kale that grows on our Tower Garden because they watch it grow and we talk about how we will enjoy the kale when we have the salad.
Our block area is flourishing with more and different types of blocks. We covered our block table with a type of varnish so it would not deteriorate in our Florida weather. We also replaced our stumps again in our sitting/stepping logs. We have heavier longer logs for heavy lifting and building into a bench or whatever they want to build. The longer logs are in front of one of the structures we wove together to make a little house in two different spaces in the outdoor classroom. The children helped weave them together and decorate them as well.
An outdoor classroom, like an indoor classroom, constantly needs updating. We removed things that no one uses anymore and made new things to be in their space such as taking out the large stump in the music area and putting a pallet in it's place. We are so blessed to have so many natural resources available to us.