Nana's Learning Post
This year has been an interesting year for us. In 2019 we received recognition for our Nature Explore Outdoor Classroom and the many ways we incorporate STEAM in our Outdoor Classroom.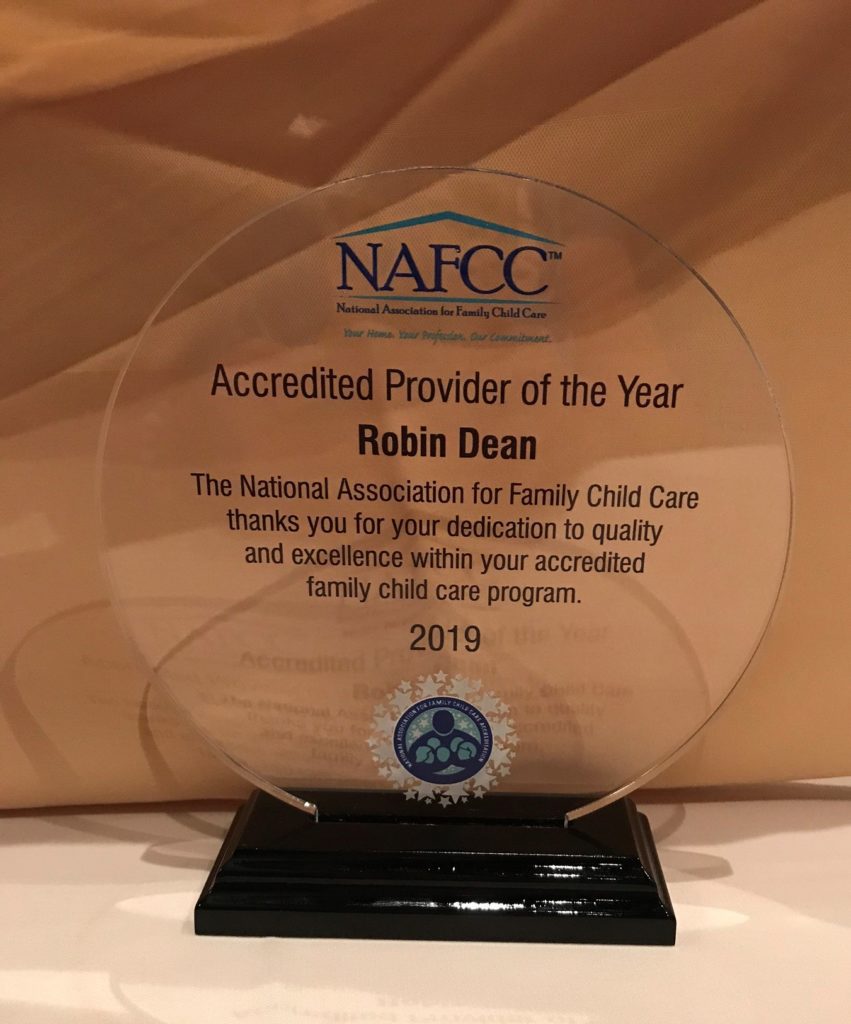 We were featured in our local Early Learning Coalition's Provider Focus Magazine for our Outdoor Classroom and the way we promote healthy habits on a regular basis as we grow food and learn to eat healthy foods. We also received a National Award from the National Association of Family Child Care as the NAFCC Accredited Provider of the Year. One part of the reason we were chosen for this award was our commitment to our Nature Explore Outdoor Classroom and the children we serve. Additionally, we received the Parent Choice Award this year for serving children and going the extra mile to meet their needs. As a result of the awards and recognition we received, a few of the local Early Learning Coalition's Board Members came to see how STEAM takes place in our Outdoor Classroom.
The Nature Explore Outdoor Classroom is a continuation of our Indoor Classroom. As Continuous Quality Improvement is what we strive for, we have carried that over to our Nature Explore Classroom as well. We are continually improving areas by bringing in new items, DIY or purchased to bring fresh interest to areas. This year we noticed an interest in fairy play so we added a fairy house built from study branches and added fairy wings. We improved our mud kitchen beside the fairy house by replacing it with a cedar plank for the workspace. This brought mud tea parties and birthday parties to the fairy house area as well.
We are being more open with our area boundaries in some areas. This has brought much more depth to their play as it extends longer. We also revitalized our block table recently as the older one needed to be replaced. We replaced it with a gigantic tree cookie just 4 inches off the ground so children of all ages can use it to build and create. The music area also received some love as we replaced some instruments and installed a "people" chime made of large bamboo poles painted with handprints. Then there are little things like small stepping stones to the "woods" area for children to walk across and explore the sensation of walking across small stones. It simply added a little bit of fun to bring interest back to an area where they learn about plants and bushes growing. These are just a few of the improvements this year.
As we notice the effect that a nature influenced environment has on children and their focusing abilities, we have brought some changes to our indoor classroom. We brought in more natural elements such as having more tree blocks and planks in the block area. We also added a wooden fairy house inside for them to role-play with little fairies or people. Our containers for items are mostly natural baskets with color pops of fabric containers so the children can sort toys back to their shelves easily.
All these improvements came about as we step back and reflect about what is working and what needs something new to entice engagement. Constantly reflecting and modifying is a characteristic of quality practices that we strive toward. The biggest challenge has been making items accessible for the differing ages that we serve.