The Nature Explore Classroom at
Nano Nagle Children's Center at St. Vincent's School
When our building was expanded and remodeled in 2018, an existing play structure was removed from the playground area, and with the exception of our beautiful pine tree, the yard was a blank slate of dirt.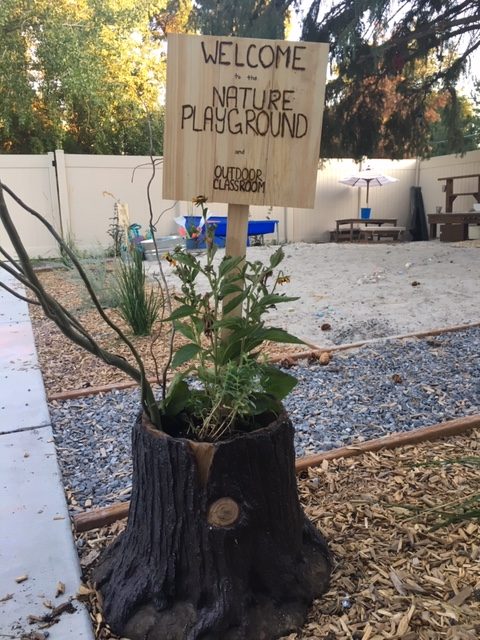 School Director Jeramie Green envisioned a transformation of our space into a natural play yard, bursting with color from native plants and filled with areas for exploration.
Our landscape contractor created the sandbox, wood chip border, and rubber play area to lay the foundations of our play areas. We then designed each play area with the Nature Explore certification in mind and sent 5 staff members to a Nature Explore workshop. The play areas are named for the patron saints of the activities of each area, which form a beautiful link between the Catholic faith we teach and the fun the kids engage in at each area.
A parent volunteer with enormous talent, Brian Blemer, built our beautiful mud kitchen, and parents and siblings helped plant the native flowers, bushes, and grasses gathered for us by Kappas Landscaping. Our Outdoor Classroom Consultant, Hilary Lambert, designed and created our block building, gathering, gardening, and music and movement areas and constructed our willow tunnel. A sibling volunteer, Jackson Green, constructed the nature art area easel. Working with these talented volunteers, we have completed the first phase of our project. Staff then spent a half-day professional development looking critically at each area and discussing how they can be used to inspire creativity, collaboration, and inspiration through play.
Our next phase will include purchasing more large blocks for messy materials play, building a hill over the tunnel for more climbing options, and installing log steps through our flower pathway.
We are thrilled to see our children getting messy, making art, making a joyful noise, learning, and laughing as they enjoy this new nature playground and outdoor classroom.
Address
1385 E. Spring Lane
Hollady, UT  84117