Nativity Child and Family Center
Our school-age students have been asking for the last few years if they could have a mud kitchen like the preschoolers. Handyman Doug to the rescue once again. He created a one-of-a-kind mud kitchen for the school agers, and they LOVE it!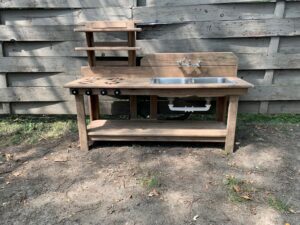 We also feel very fortunate that we were able to expand our green space this year. The church purchased the house adjacent to our playground, allowing us to expand into the backyard. It is such a wonderful place to run around, play soccer, or just lay a blanket down to read or have a picnic.