Nature Explorium
at Middle Country Public Library
Nature Explorium continues to be a highly used and well-loved space at the Middle Country Public Library. This year our space served over 13,000 drop-in visitors. We served our local community as well as many families that travel to visit us from throughout Long Island.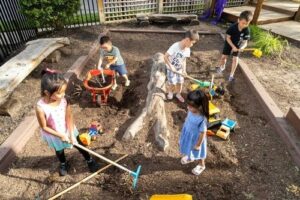 This special space provides families with a safe and appropriately developed family friendly space to explore.
Our space is typically open 7 days a week from April through November for families to drop in and play-rain or shine! In addition to drop in experiences, our library offers a variety of programs for our Middle Country community to register for, free of cost, many of them being nature focused. These programs are offered for all ages. Early childhood programs support toddler and preschool development through gross motor play, exploring nature and open-ended education.
School age children learn through interactive hands on experiences, fact-based story times, nature yoga and physical activities. Our teens are able to attend programs that use natural materials to create art, volunteer in our Green Teen group or write poetry inspired by nature.
We truly strive to serve our community and meet their needs by providing them the limitless benefits of having a nature classroom.