Nature's Pointe Cooperative Preschool
Our outdoor classroom is the highlight of our program. We continue to hold classes outdoors
unless there is inclement weather. Being outdoors in all seasons encourages our students to
connect with nature. They explore rain, puddles, wind, snow, ice, sunshine, and shadows as
well as birds, insects, animals, and plants. Their natural sense of curiosity blossoms, and they
are eager to learn more.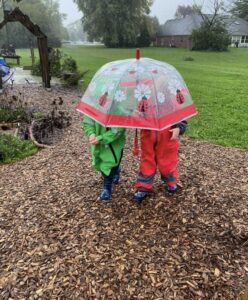 Children are allowed to take healthy risks, and independence is encouraged through the variety of multi-level spaces and planned activities offered. The activities and learning experiences invite the students to engage in cooperative play and develop their social skills.