Noah's Ark Preschool
We have had a great year with many updates to our space. Families came together for our annual beautifying our outdoor learning area. We had families put together storage containers, add dirt to our dirt-digging area, plant more plants and rake up all leftover leaves. Most of the plants that were planted are flowering and add a layer of color to the area.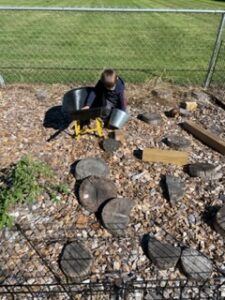 At the beginning of the year, we added a new house made out of wood for dramatic play. Our students love to play house, veterinarian and hospital in the new area. With COVID still a concern at the beginning of the year, we utilized a speaker to come in and do presentations with our students on grasshoppers. The speaker was from Nahant Marsch which is close to Blue Grass.
Next year we plan to continue with our community outreach by inviting all parents to help with our annual outdoor classroom beautification. We will be adding more items with color and expanding our garden area.