Noah's Ark Preschool
We have had a great year with updates. Families came together for a day and helped beautify our outdoor learning area.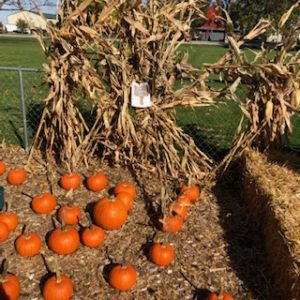 One family weeded and planted our garden with pumpkins which have provided our science center with 4 huge pumpkins and 20 gourds. Another planted 16 plants and bushed next to our sensory walk to provide tactile feelings for our students hands while walking on the different nature areas. Most of the plants are flowering and add a layer of color to the area. Lastly, several families moved our messy area to provide it with more space and encased it in a fence. The children have been playing in these areas, with the pumpkin and gourds being their favorite.
With COVID, we have also utilized speakers that come in to do presentations with our students. We have had Nahant Marsch speak on the topics of worms, ants and grasshoppers. Worms was a huge success. They brought in enough worms for every child to have one to hold.
Next year we plan to add a new wooden playhouse to the area of dramatic play that will encourage the student to use their imagination to enhance their learning.